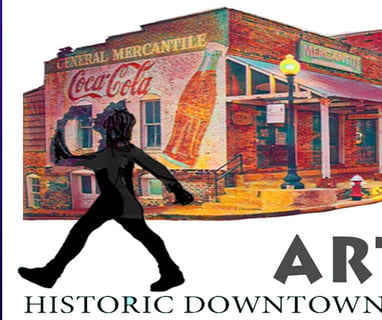 ArtWalk matches local businesses with professional artists for an afternoon of shopping and seeing local artist works. Pick up a map at the Convention and Visitor's Bureau to see the route. Get stamped at each location and turn it in with your name.
Nacogdoches Arts Collaborative has a gift for the winner drawn from your completed maps.
Saturday, March 25, 2023; 1-4PM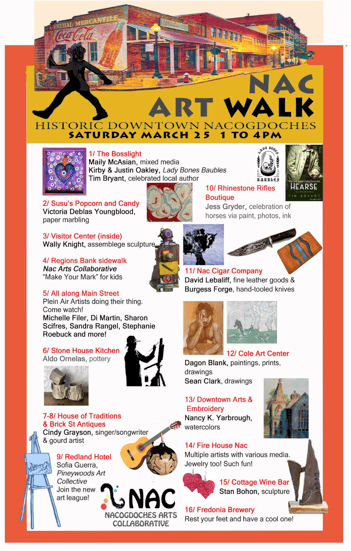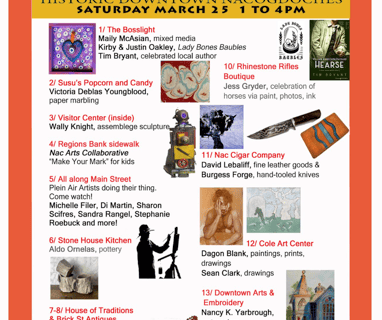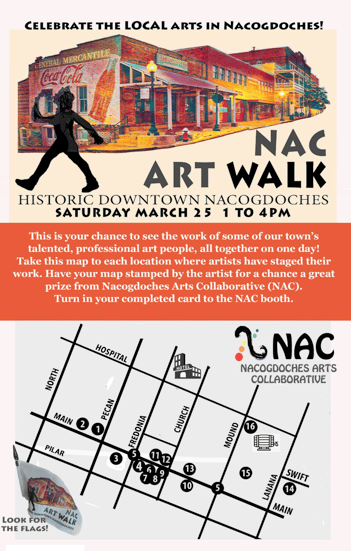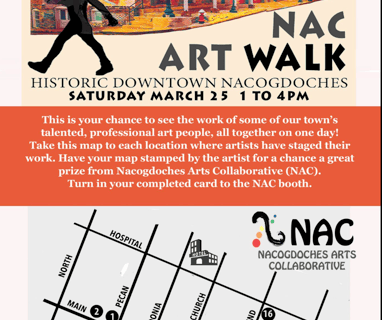 Special Plein Air painting classes offered by NAC and Michelle Puchalski Filer!! VERY LIMITED class sizes. See details below. Plein Air painting, or outdoor live painting, is a wonderful way to engage with nature, while learning how to "see" lines, colors and light. NAC's official painter girl, Michelle Puchalski Filer, will teach 4 Plein Air classes in March at various locations around Nacogdoches.
The first 3 classes will be on Sundays, March 5, 12 & 19 from 10am to 2pm. The last class will be on Saturday, March 25 to coincide with the 2nd annual Spring ArtWalk downtown Nacogdoches.These classes are NOT beginning painting classes. You will be required to bring your own supplies in whatever medium you feel most comfortable. Michelle will start with a demo and then will walk around guiding and encouraging the painters with their chosen scene. Classes are limited to the first 20 people.
You can do one or all 4 classes. Individual classes are $30 each or prepay for all 4 at $100.* The goal of these lessons are for Nacogdoches Arts Collaborative to host an official "Plein Air Paintout" in the near future. In a "paintout" artists paint all over town while visitors tour around to see the artists in progress. It culminates with a sales event where the art is available for purchase and/or bidding. The proceeds are split between the artist and NAC non-profit.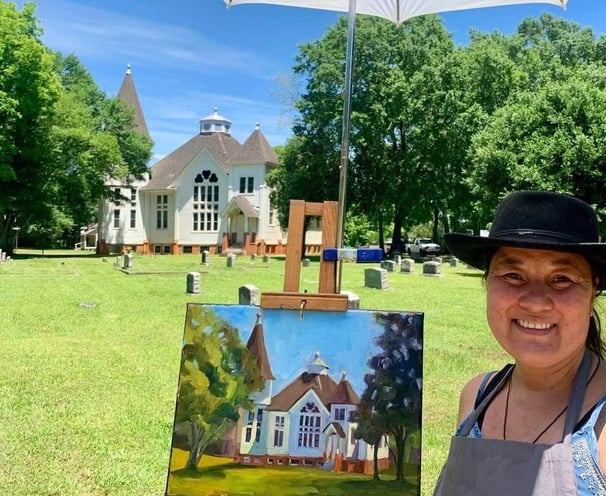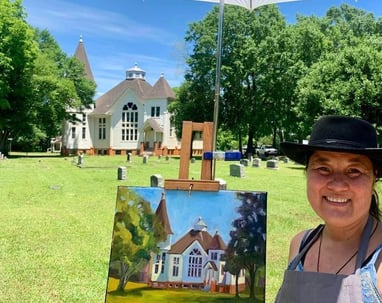 Register here: https://cbo.io/tickets/pleinair/tix
If you require other payment methods, contact nacartscollab@gmail.com to make arrangements.
Need more info? Email alsteed@aol.com, or text 917-209-1050.
The first 3 class locations will be in and around Nacogdoches. The 4th will be downtown around the square.* If the classes fill with prepay, there will be a waiting list for individual classes. Your reservation is not guaranteed without payment.