Meet Nacogdoches legend assemblage artist Wally Knight!
Wally is a well known character about town and a working artist with a full time studio behind his home. Knight came to Nacogdoches in 1972 to attend SFASU and decided to stay. To quote Wally he is "..not a BIN, born in Nac, but is a SIN, stayed in Nac."
While Wally was always an artist, it took a brain tumor to send him to the next level. After the health scare, he started creating large assemblages of mostly found objects with fun themes and visuals that usually light up. His work can be found in many local art collections and he has had numerous solo and group shows at the Cole Art Center, Falling Star Gallery, Arts on Fifth Avenue in Fort Worth and Angelina College. His most recent solo show was almost sold out on opening night. His work is for sale at the Bosslight Bookstore and by appointment in his studio. Call 936-560-4362 for an appointment.we continue to build on that legacy and strive for excellence in everything we do.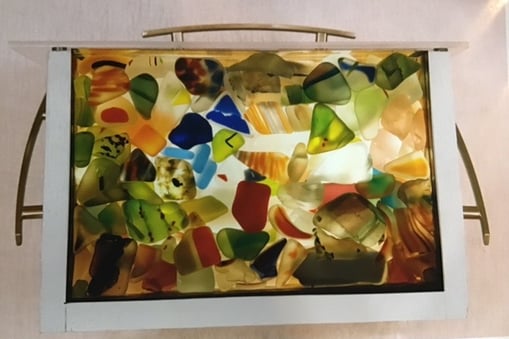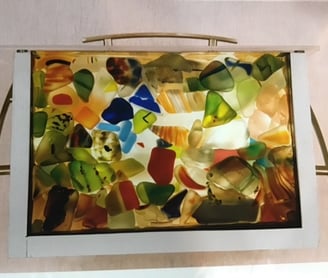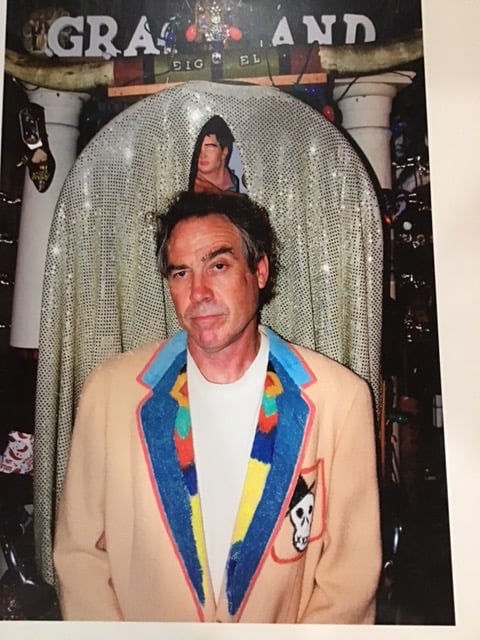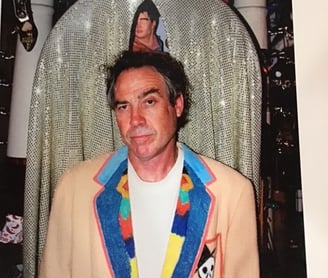 Meet mixed medium artist Brigette Kozash!
Brigette has become a major arts influencer in our community. After moving to Nacogdoches in 2014 to pursue her BA in History, she graduated in 2017 and decided to stay. Brigette has been involved in the planning of ArtFest since it's inception and is one of the founders of Fire House Art Studio & Collective, a group of young artists and studios, also hosting art fairs, music shows, exhibits and workshops. Kozash was also a founding board member of Nacogdoches Arts Collaborative and continues to volunteer with the nonprofit.
Brigette has worked in linocut, writing & publishing and stained glass. In 2021, she focused her artistic endeavors on stained glass where she has thrived, not only becoming a talented glass artist but also having a brisk retail business doing both original creations and commissions. Brigette has been a featured artist at recent Nac ArtWalks and has also been vending her wares at events in Houston and all around East Texas. You can see her work at www.cheekchewer.com.
Images attached of Brigette Kozash and an original design Bluebonnet Axe stained glass piece by Kozash.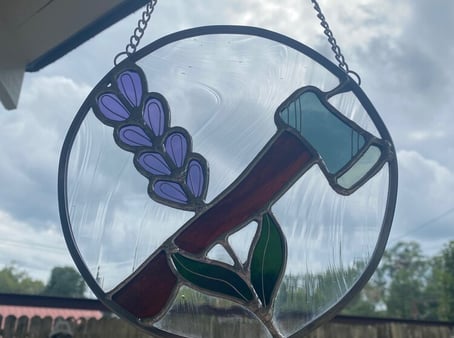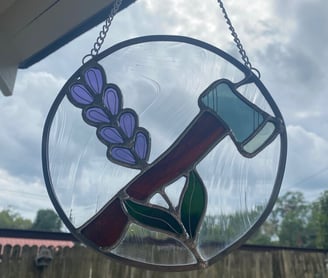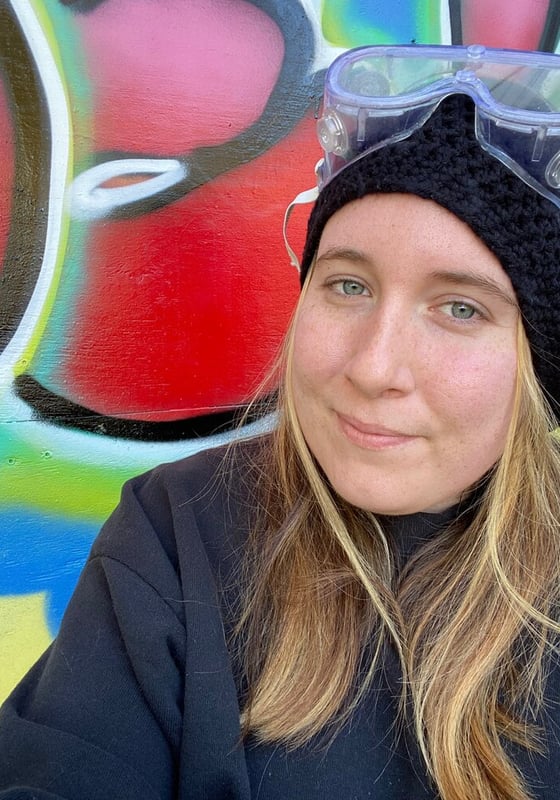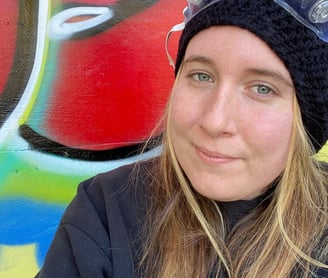 Meet local emerging fine artist Weelynd McMullan!
A graduate of Central Heights High and now holding both a BFA and MA from Stephen F. Austin State University, Weelynd is one to watch! He grew up on a farm north of Nac and showed an early talent for illustration. While still an undergrad at SFA, he did portrait illustrations for the popular book Red Dirt Memories and supplemented his college years doing portrait commissions. Also while undergrad, he started gallery work first as a student and then employee at the Cole Art Center and now as full time preparator for the Museum of East Texas. Weelynd will also teach Drawing II as adjunct art instructor in SFA's School of Art next semester.
McMullan's artwork has grown and morphed into much more than portraiture, now specializing in mixed media, drawing from influences such as Greek mythology characters, Basquiat, the Bible and his own dreams. His work has been included in numerous group shows, two solo exhibitions and resides in the collection of the Museum of East Texas, as well as private collections in Nacogdoches, New York and Los Angeles. It would be a good idea to get an original "Weelynd" while you still can! You can see more of his work @weelyndmcmullanart on Instagram.
Images: Weelynd McMullan photo, his mixed media art piece "Friend Shaped"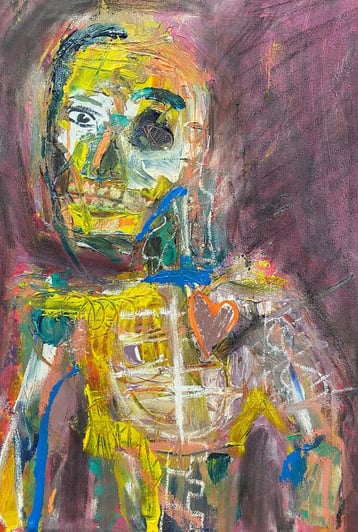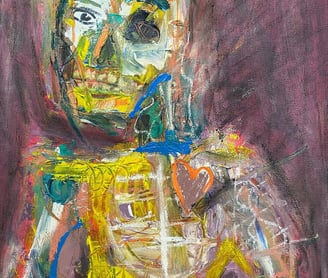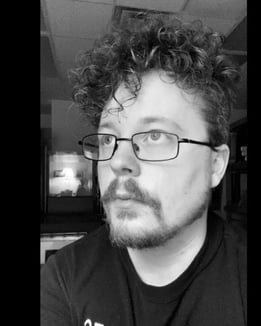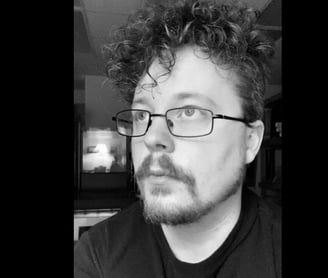 Meet painter and teacher Gary Parker
Parker was born in Pennsylvania where he pursued a degree in biology until he discovered painting. He received his MFA from SFA and was employed at a variety of positions at the university including Art Shop supervisor, teacher, and Cole Art Center gallery preparator. He directed the school's Summer Art Academy program for children for 22 years and also ran the on campus student galleries while teaching students Professional Practices - how to install exhibitions. Gary was also instrumental in creating the 12x12 scholarship fundraisers and the Texas National Competition. His mentoring of students is legendary and many alumni credit him with their discovery and love of art. Now retired, the SFA Friends of the Visual Arts honored Parker with a named scholarship awarded annually to a worthy art student.
Gary has pieces in many collections across the US and locally. The Falling Star Gallery hosted a solo exhibition of new works in 2022. He continues to make art every chance he gets. You might also see Gary working behind the scenes at Old Stone Fort events, where his wife Carolyn Spears is Director.
Parker's solo exhibition at Falling Star Gallery was featured in *Glasstire's popular "Five-Minute Tours" in April 2022. You can check it out here: https://glasstire.com/2022/04/26/five-minute-tours-gary-parker-at-falling-star-gallery-nacogdoches/
*Glasstire is a Texas focused online place to find information about visual arts.
Images: Parker with his painting "Merci Marcel"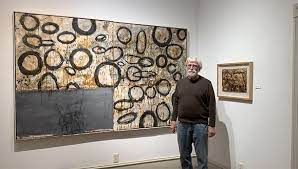 Meet Nacogdoches painter Lynn Carey Myers!
Myers is relatively new to Nacogdoches, having moved here in 2019. She bought a vintage Victorian house on Mound which is now home to The Fortney House furniture, decor and gift business owned by Brad Fortney. Myers used to live near Wimberley, Texas, a noted arts center in the Hill Country. While there, she displayed her art in a couple of galleries and served on numerous committees to promote the arts in the area. In an effort to bring more tourists to town, she started a public outdoor sculpture project with six foot tall cowboy boots painted by many local artists, Called "Bootiful Wimberley" the result was 50 boots all around town which are a source of pride for citizens and a trail of boots for visitors to admire. She was also commissioned by HEB to paint two boots for new store openings.
Since moving to Nacogdoches, Myers has helped to resurrect the popular Nac Art Walk and has painted another big boot called "Bootanical," which is on display at the CVB downtown. She also painted an electric box at the soccer complex, a project that proved challenging. As a member of the Main Street Advisory Board, she is now spearheading a city initiative for a series of murals in our historic downtown area and is mulling over the idea of a public sculpture escapade for Nacogdoches. As time permits, Myers paints and takes workshops, and brags, "I'm a bonafide graduate of Michelle Filer's fabulous plein air class which is the most fun I've had in a while.